Insight | Market Commentary
Q2 2021 Market Commentary
29 July 2021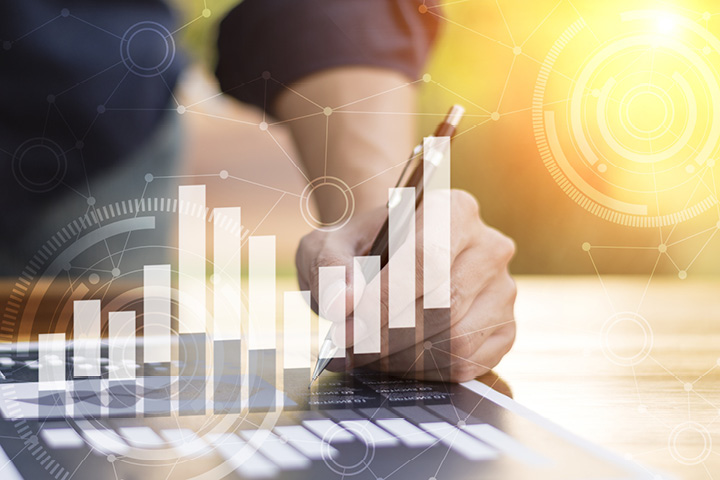 Over Q2 markets on the whole continued to appreciate as more economies and sectors reopened and consumers started to spend some of their pent up savings. Central Banks have kept interest rates on hold and continued to make the point that inflation is not a concern at the moment and the recent increases are largely down to the comparison with the same time last year, when lockdowns were more apparent as a result of Covid. Governments also continue to provide fiscal support to their economies, although the level of support, such as Furlough in the UK, which has been given for the last year has started to reduce as a result of a greater level of normalisation in the economy.
During the quarter there was a pause in the rotation to more cyclical areas as investors began to move back into more growth sectors such as Healthcare, IT and Communication Services given concerns around variants and the potential impact should these become a bigger issue. The vaccination rollout continues at a pace with Europe now catching up with the US and UK.
The chart below shows some of the short term sector rotation that has occurred within the FTSE All Share and the difference in returns from Q1 to Q2.
Within other assets, Commodities markets have continued to rise over the first six months. In particular Crude Oil and Natural Gas drove the returns in this asset class as the global economies continued to reopen and consume.
Corporate earnings on the whole continued to be revised upwards and most of the manufacturing and services indexes continue to show expansion in the various economies to differing degrees. There does however remain an element of caution on the potential impact of more variants and further potential lockdowns, which means at this stage we retain a diversified approach to our asset allocation and continue to concentrate on the fundamentals on each asset class and region.
Over the quarter, the top performing investment areas have been equity with the FTSE All Share Index in the UK increasing by 5.6%, MSCI Europe ex UK 7.7% and the US S&P 500 Index increasing by 8.3%.  Fixed income assets were also positive as government bond yields fell with the Iboxx UK Gilts – All Maturities up 1.7% and Barclays Global High Yields Bond up 2.9%.
Broad Equity and Fixed Income Market Returns (%)
| | | | | | |
| --- | --- | --- | --- | --- | --- |
| Equity & Fixed Income Market Returns (%) | 3m | 6m | 1yr | 3yr | 5yr |
| FTSE All Share | 5.6 | 11.0 | 21.4 | 6.2 | 36.8 |
| FTSE Small Cap | 8.9 | 19.4 | 50.1 | 36.2 | 89.6 |
| MSCI Europe ex UK | 7.7 | 10.4 | 21.7 | 30.5 | 70.2 |
| S&P 500 | 8.3 | 13.7 | 25.3 | 57.0 | 111.8 |
| Japan – Topix | -0.9 | 0.1 | 10.3 | 13.6 | 53.5 |
| MSCI AC Asia ex Japan Equities | 4.1 | 6.6 | 26.9 | 35.1 | 87.2 |
| MSCI Emerging Market Equities | 4.9 | 6.3 | 26.1 | 31.6 | 78.5 |
| IBoxx UK Gilts – All Maturities | 1.7 | -5.7 | -6.4 | 10.2 | 11.3 |
| IBoxx UK Corporate Grade Bonds | 1.9 | -2.5 | 2.9 | 17.1 | 25.6 |
| Barclays Global High Yield Bonds | 2.9 | 1.0 | 2.4 | 15.6 | 32.5 |
Total Return (£), Cumulative    |    Source: Financial Express Analytics 30/06/2021
Equities
US markets gained over the quarter with the S&P 500 Index rising by 8.3%. The Federal Reserve ("FED") kept interest rates on hold throughout the quarter and continued to give out in their messaging that the inflation at the moment is transitory given the gap between low supply and high demand and this needs to close before it becomes more of a permanent feature.
In Europe, markets again had a positive quarter with the MSCI Europe ex UK index rising by 7.7%. Growth forecasts for the region as a whole have picked up as a mix of business and consumer confidence has increased as the vaccination programme and the rollout has started to gather pace. Earnings growth within companies has been strong over the quarter in particular in areas such as banks, industrials and consumer cyclicals.
In the UK the FTSE All Share rose by 5.6% over Q2 with particularly strong returns from the smaller more domestic focused areas of the market with the FTSE Small Cap up 8.9%. There has also been increased merger and acquisitions activity which is a healthy indicator. The International Monetary Fund has upgraded the growth forecast for the UK from 4.5% for 2021 to 5.3% for the year.
In Asia the MSCI AC Asia ex Japan Equities Index returned 4.1% on what was a mixed quarter for the area. Within China, the government's focus on IT companies and then latterly pricing on Commodities has hurt both of these areas over the quarter to varying degrees.
Fixed Income
Central Banks have continued to keep monetary policy loose by keeping interest rates low and providing stimulus measures to help the economy through this period. Inflation, and as a result potential interest rates, have continued to be mentioned in the media. Central Banks continue to state that the shorter term inflation is transitory and inflation rises are likely to settle back down to more normal levels towards the end of the year.
At the recent meeting of the FED they voted to continue to maintain interest rates at the current levels 0-0.25% and mentioned that rates are likely to increase in 2023 and not 2024 which surprised the markets. In addition the FED discussed a possible reduction in asset purchases (tapering) somewhat earlier than forecast as economic growth continues to improve. US 10 Year Government Bond yields reduced over the quarter from 1.7% to 1.4% proving a capital uplift as concerns around the speed of recovery and the increase in Covid variants grew. The forthcoming Q2 earnings reports should provide a greater insight into the strength of recovery.
The Bank of England voted 8-1 to maintain Bank Rate at a record low of 0.1% and continued to state that recent inflation increases are likely to be temporary and that they do not intend to tighten monetary policy until there has been a greater progress between closing the gap between supply bottlenecks and demand within the economy.
The European Central Bank continues the support to the region through the Pandemic Emergency Purchase Programme (PEPP) with €1.85 trillion of support until at least the end of March 2022 and also said it would carry out buying bonds until it judges the crisis to be over. The inflation outlook was revised higher at 1.9% for 2021 and 1.5% for 2022 still below its 2% target levels. The growth outlook was revised slightly up for 2021 to 4.6% and 4.7% in 2022.
Outlook
Looking at the investment outlook in the short-term, we continue to focus on fundamentals and companies that have the ability within their business models to adapt to the market conditions. Central Banks and Governments continue to provide support to their economies and as the economies open, careful analysis on how and the speed the support mechanisms are to be withdrawn is being undertaken.
We continue to actively engage with all our fund managers and within the fixed income asset class to monitor how they are positioned should fiscal tightening be accelerated ahead of expectation. Many are positioned cautiously in companies that continue to have strong cash flows to meet their debt obligations. We remain overweight equities favouring active managers, who have been trimming and adding to positions when opportunities arise. We also continue to remain overweight in a pool of diversified real assets many have inflation linked contractual payments often backed by governments.
Our portfolios remain diversified across each asset class, sector and geography and our approach has the flexibility to take advantage of the changes in the markets throughout this period.
This information is obtained from sources considered reliable, but its accuracy and completeness is not guaranteed by Anderson Strathern Asset Management Limited. Neither the information nor any opinions expressed constitute financial advice. Investments can fluctuate in price, value and/or income and may return less than the original amount invested. Past performance is not necessarily a guide to future performance. Anderson Strathern Asset Management Limited is authorised and regulated by the Financial Conduct Authority.